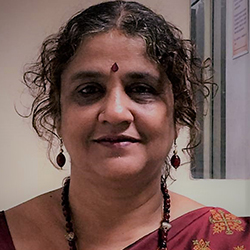 Dr. Uma Shankar Principal & HOD Philosophy, SIES college
Dr. Uma Shankar is the Principal and Head of Department of Philosophy, SIES College of Arts, Science and Commerce .
A recipient of Yoga Mitra Award Jan 2017,she has been teaching Philosophy and Psychology to undergraduates and for the past twenty years and she has been teaching Advaita Vedanta to Post Graduates.
She has more than fifteen publications to her credit and has given lectures and presented research papers at USA, Athens, Bangkok, Istanbul and many academic institutes in India. Her areas of research are Advaita Vedanta, Religion & Spirituality, Shakti Worship, Guru Parampara, Saranagathi, Mystics – Shaiva & Vaishnava traditions, Philosophy of yoga, Women mystics of India, Spirituality & Management, Bioethics, Hinduism and Science & Religion.