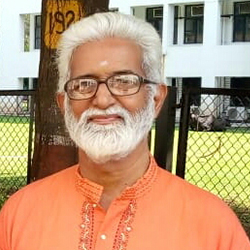 Acharya Uday Vedanta Teacher
A teacher of Vedanta and a spiritual counselor for more than thirty years and a visiting faculty for Institutes and corporates, Uday Acharya is also a columnist for Asian age, DNA and has written several ebooks. Uday Acharya ji studied the scriptures from Swami Dayananda, Swami Tarananda and Swami Chinmayananda in Rishikesh & Mumbai.
He is the managing trustee of VidyaVaaridhi trust and the Director of Mindflex, the learning organization.
He conducts Classes, Workshops and Spiritual Retreat Camps based on Insights from Bhagavad Gita and Upanishads Meditations & Contemplations Arthashastra Insights into Leadership Multiple Intelligence – IQ EQ SQ Effective Stress-free Management Motivation & Interpersonal Relationships Personal Growth and Empowerment Know more