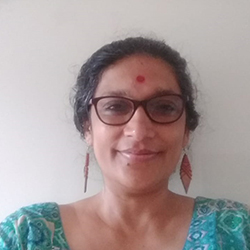 Falguni Harkisandas Speaker
Falguni has been teaching Vedanta (in Gujarati language) in Mumbai after completing her 3 year Vedanta and Sanskrit course (2014-2017) at Arsha Vidya Gurukulam, Anaikatti. She conducts classes on Vedic heritage for children and also teaches Vedic chanting to children and youth. Being a homemaker for a good part of her life, she has a very good connect with other homemakers. She believes that ' Homemakers have gained much punya due to serving their families. But, many neglect themselves. They have the necessary preparation for Vedanta.', and hence is committed to helping them discover the power they have and the fullness they are.
She taught yoga and yoga therapy for the past 30 years, in India and abroad including in corporates such as BPCL refinery, pharmaceutical companies and the American Consulate. She worked with many government departments including the indirect income tax department. Falguni also conducted stress management camps in corporate setups.  She taught chair yoga therapy to about 300 visually challenged girls and boys who in turn taught another 600 youth and are now gainfully employed. She was featured in different magazines like the inflight magazine of Kingfisher and several newspapers for her work. She wrote a regular column on yoga therapy for DNA newspaper.
Born and brought up in Mumbai, she is a qualified yoga teacher and therapist from the Yoga Institute and Vivekananda Kendra, Bangalore. She has learnt many healing modalities such as Kalahari Marmas, Thai yoga therapy, Chi nei tsang (Tao healing) in India and abroad.
Email – falguni.harkisandas@gmail.com